Biochar has a wide variety of beneficial properties that can displace synthetic and expensive biodegradable products currently used today. An increasing number of biochar based products were recently designed to be eventually applied to soil, but which will enjoy a useful life above the soil first. Two of the qualities that set biochar apart from many other materials are its versatility and its numerous cascading benefits. When products made with biochar end up in the soil, whether in a garden or a landfill, they can provide long term benefits to soil quality and fertility. Non-soil uses of biochar will also provide several climate friendly solutions and have the advantage of continuing to sequester carbon when cast off to the soil after use.
Our most recent project could potentially transform biochar from being a novelty material to one that is ubiquitous in the consumer environment, preventing massive amounts of carbon from returning to the atmosphere.  Allow us to introduce you to chardboard, a blend of biochar and paper pulp created with the assistance of a paper designer from the Genesee Center for the Arts based in Rochester, NY.
Paper and packaging materials generally contain a mix of fiber and filler material.  Fibrous material acts as the binding agent while fillers have traditionally been added to lower production costs. Certain fillers can also help maximize bulk, printability, stability, drying rates and various other qualities.  The end use for the paper product determines which filler properties are most important, but characteristics such as particle size and shape, surface area and color are important considerations.  We investigated the possibility of using biochar as a filler to create a sustainable packaging material that could be made into a wide variety of products.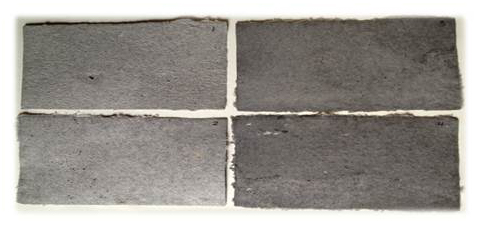 Chardboard with varying percentages of biochar
The sustainable packaging industry is predicted to grow to more than USD$244 Billion by 2018 (Rodden, 2012). In light of public demand for sustainable products, manufacturers and retailers have been exploring more sustainable packaging systems that increase the use of renewably sourced materials as well as looking at ways to increase waste recovery.  Chardboard would qualify on both counts because biochar can be made from a range of organic waste materials including typical waste products from the pulp and paper industry.   Not only is chardboard highly sustainable, but biochar based packaging could also offer a wider range of functional properties.  For example, biochar could provide insulating properties to cardboard, inhibit ripening in produce, keep produce dryer and even protect electronics from electromagnetic fluxes. Biochar can replace synthetic inputs currently used in the packaging industry and best of all: chardboard packaging will continue to benefit the environment long after the box is no longer in use even if it ends up in the landfill.
Customized paper blended with biochar is not a new technology.  Japanese companies have already invented a charcoal based tissue material called 'umezumi' made from plum pits (seeds) which has deodorizing and vapor absorption properties. Experience in Japan with biochar tissue paper products shows that biochar's ability to adsorb odors is retained when blended with paper pulp. Uses for this paper include shoe soles, drawer or refrigerator liners, and mattress pads amongst other possibilities.
How It's Made
A variety of different feedstocks can be used to produce biochar for paper fabrication. Our initial test used biochar derived from coffee chaff, the shell of the coffee bean which is shelled during the roasting process. Coffee chaff char has the benefit of being relatively uniform in size, thereby requiring minimal pre- or post-processing, as well as being consistent in both availability and composition.  Other feedstocks could be used but would likely require milling to attain the required uniformity in size which is an important criteria for fillers used in paper making.
Filler content in paper varies depending on the type of paper but in some cases can reach more than 30% (Hower, 2014).  Our initial tests were done using a range of biochar contents, with those using under 30% showing more desirable properties.  Paper pulp was the only other content used in our prototypes.
Benefits
Biochar used as a filler has the potential to provide a variety of different properties of value to industries as diverse as food production, horticulture and electronics.
Compatible with beneficial bacteria – Municipalities are struggling to divert more food wastes from landfills and into composting where nutrients can be recovered and used to grow food, but they are challenged by the odor problem of decaying food waste. Food waste can be disposed of in chardboard containers inoculated with efficient degraders which would reduce odor and prevent nutrient loss.
Low thermal conductivity - An interesting property of chardboard is its low thermal conductivity. Initial testing of chardboard shows that heat transmission is reduced (the product will be undergoing testing to measure conductivity more accurately).  This is an ideal characteristic for hot or cold food packaging, for instance, insulating sleeves for hot or cold beverages, or pizza boxes that retain heat.
Extend produce shelf life – certain fruits and flowers are highly susceptible to premature ripening due to ethylene, a natural plant hormone that promotes cell degradation.  As biochar can sorb ethylene, (Abe & Watada, 1991) biochar added to packaging for fruits such as bananas or kiwis could help increase their longevity.
Anti-static agent - Electrostatic discharge (ESD) can damage electronics components during shipment.  Biochar produced at higher temperatures is conductive so chardboard could dissipate static as well as protect electronics from mechanical damage thereby eliminating the need for multiple packaging elements.
Moisture absorption – the porous nature of biochar allows for easy absorption of moisture and vapors which can help keep products fresher longer and in other applications could provide resistance to fungi or mold formation.
Cradle to Cradle® - Similar to the biochar building materials developed by Ithaka Institute, at the end of its initial use chardboard continues to be useful and restorative by adding carbon back to the soil.  Ideally those with access to gardens could toss it in their compost bin or garden after they have used it as a litter liner. Since many urban dwellers don't have that option, it is likely that a significant portion may end up being landfilled.  Even if it does end up in a landfill, chardboard will likely be 'bio-beneficial' as it can help reduce odors and toxic leaching as well as inhibit methane emissions (Reddy, Yargicoglu, Yue & Yaghoubi, 2014).  Recycling chardboard is an area that requires more research to understand the impact of biochar during the recovery and recycling process.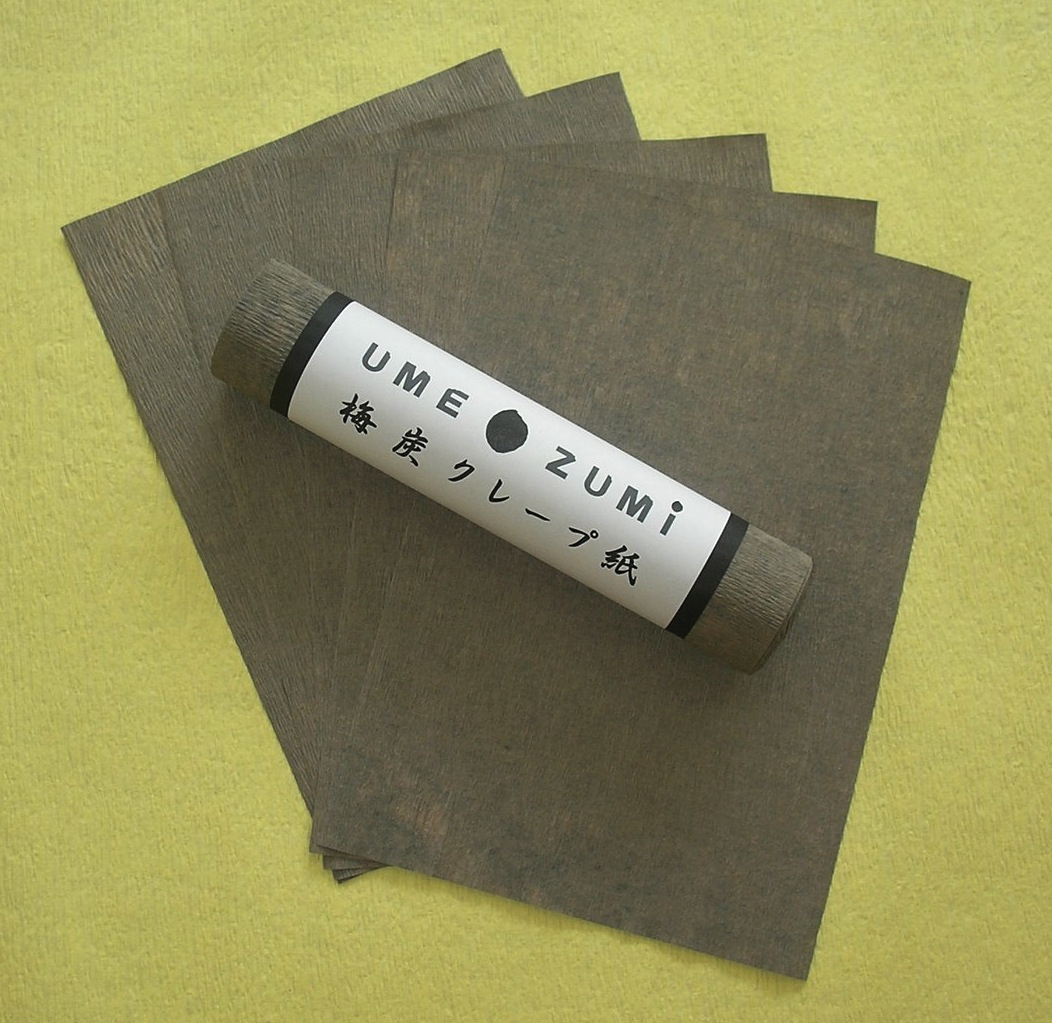 Umezumi - Japanese plum seed charcoal paper is made from leftover seeds from factories that produce pickled plum, a favorite in Japanese cuisine.
Integrating biochar use within the paper industry offers a number of benefits which the Ithaka Institute has just begun to explore.  Additional potential benefits leading to improved paper products and a more sustainable pulp and paper industry are described below.
Paper Industry Benefits
Cleaner, Greener Energy – More than half of all paper mills use biomass boilers for some portion of their energy needs.  Most US paper mill biomass boilers may be subject to new stricter emissions standards enacted by the EPA that require Best Available Control Technology (BACT) for pollutants. Consequently, many aging boilers may be slated for replacement. Mills could replace their old equipment with clean gasification or pyrolysis equipment that can produce biochar along with heat and power from paper sludge.
Improved water treatment – Biochar is increasingly used in water filtration situations as it has the capacity to capture contaminants and filter effluent.  Paper mill effluent has long been documented as a point source contaminant in many water bodies. Biochar could be used first as effluent filter and then, following a post treatment, used as paper filler.
Reduced Costs – By upgrading current biomass boilers to combined heat and biochar (CHAB) generation, paper mills could generate a valuable by-product which they can use in a variety of different ways including paper fillers and water filters thereby reducing the need to purchase these inputs.  In addition, paper manufacturers can reduce landfilling costs related to boiler ash residuals, 72% of which is currently landfilled (Bird and Talberth, 2008).
Improved Carbon Footprint – Paper mills that convert their waste biomass into heat, electricity and biochar would see an improved carbon footprint from reduced transportation of ash generated from existing biomass boilers and reduced emissions related to procurement of non-fiber inputs.
Challenges
As with other areas of biochar technology, cost is often the biggest hurdle to adoption, but biochar offers multiple co-benefits, particularly in closed loop production scenarios.  Industries that generate significant amounts of biomass waste and which have a need for packaging material such as the pulp and paper industry, coffee roasters, and certain types of agriculture (e.g. banana plantations), may be especially well positioned to take advantage of converting their waste stream into chardboard as they can use the heating benefits to further reduce costs and improve their environmental performance. Coffee chaff biochar turned in to coffee sleeves; and paper sludge, sawdust, bark or hog fuel turned in to biochar and used within the paper manufacturing process are two such closed loop models.  Rural economic development projects could focus on converting agricultural waste, such as pineapple or banana residues, into biochar based packaging which could be used to ship products, improving the local economy and environment at the same time.
Another challenge may be in customer perception and adoption of using a gray product versus the more traditional brown products. However molded pulp packaging, made using recycled paperboard, newspaper or paper sludge, has been increasing in popularity and is similar in color to chardboard.
Uses
The number of possible uses for chardboard seems almost limitless.  The initial list exceeded 55 uses but we decided to stick to this number as it has become synonymous with the multi-faceted uses of biochar (see: 55 uses of biochar), without accounting for carbon sequestration when the products eventually end up in the soil. Here are some of the possible products under discussion:
Food & Beverage Packaging
1. Coasters, 2. Coffee packaging, 3. Coffee cup sleeve, 4. Cup holders, 5. Food tray, 6. Egg cartons, 9. Fruit packaging, 10. Napkins, 11. Placemats, 12. Take-away containers, 13. Sandwich wrappers, 14. Disposable plates.
Imagine turning the waste from an agricultural crop into packaging for the same crop!  Some of our first products are focusing on coffee related items since they were made with coffee waste.
Yard & Garden
15. Seedling starter pots, 16. Seed tape, 17. Sheet mulch, 18. Seed blocker, 19. Leaf litter bag, 20. Plant wrap, 21. Weed barrier cloth.
Getting biochar into the soil will help complete the product life circle in the most beneficial way!
Home
22. Book covers, 23. Book marks, 24. Ceiling tiles, 25. Furniture, 26. Drop cloth, 27. Picture matting, 28. Wall covering, 29. Hangers, 30. Kitchen waste compost bags.
Medical
31. Biodegradable bedpans, urinals, kidney dishes, 32. Surgical attire (masks & caps), 33. Patient gowns & slippers, 34. Underpads, exam table paper, 35. Band aid, skin wrap.
Office & Shipping Supplies
36. Bags, 37. Boxes, 38. Cubical dividers, 39. Folders, 40. Notebook covers, 41. Envelopes, 42. Edge protectors, 43. Fiber drums, 44. Shipping tubes.
Personal Use
45. Diapers, 46. Toilet liners, 47. Sanitary napkins, 48. Biodegradable urns, 49. Gift wrap.
Pets
50. Pet casket, 51. Poop bag, 52. Kitty litter liner, 53. Wee wee pads.
Miscellaneous
54. Car insulation, 55. Gaskets.
Next Steps & Future Research
Moving forward, our plan is to identify different feedstocks for char with the best properties for chardboard production as well as to understand the best production parameters to create optimal chars for use in chardboard.  We are currently working on producing several prototypes of chardboard products using different feedstocks including paper sludge and have begun communicating with companies to gauge interest in pilot testing these products.
What is it worth for you that this article exists? All of our articles are open source, based on experience and scientific research, reviewed by renowned scientists, independent and free from ads. Please help support our work with a subscription to the Biochar Journal. Subscribe here.
References
Abe, K and Watada, AE (1991). Ethylene Absorbent to Maintain Quality of Lightly Processed Fruits and Vegetables. Journal of Food Science, 56: 1589–1592. doi: 10.1111/j.1365-2621.1991.tb08647.xHower, M (2014). Sustainable Packaging Market to hit $244B by 2018, Sustainable Brands, http://www.sustainablebrands.com/news_and_views/packaging/mike_hower/report_sustainable_packaging_market_hit_244_billion_2018, retrieved 8/22 2014Reddy K, Yargicoglu E, Yue D, Yaghoubi P (2014). Enhanced Microbial Methane Oxidation in Landfill Cover Soil Amended with Biochar, J. Geotech. Geoenviron. Eng.,140(9), 04014047.Rodden, G (2012). High quality paper using increased filler content" PPI Chemicals, March 4, http://ppimagazine.com/chemicals/west-europe/high-quality-paper-using-increased-filler-content, retrieved 8/22 2014Bird, M, Talberth, J (2008). Waste Stream Reduction and Reuse in the Pulp and Paper Sector, Washington State Department of Ecology, Industrial Footprint Project, http://sustainable-economy.org/industrial-footprint-project-for-the-pulp-and-paper-sector-washington-state/, retrieved 8/22 2014